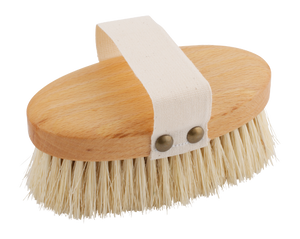 Wooden Massage Brush | Oiled Beechwood
Regular price £14.95 Sale
Hand-crafted massage brush with extra-long trim (bristles to you and I) and a cotton belt for ease of use. Made sustainably with oiled beechwood tampico fibre, and measures 13.5 cm. The standard and quality you'd expect from a family of traditional brush makers. 
Perfect if you're looking to reduce the amount of plastic in your home – or skincare regime.

Each product is inspected and tested by the Redecker family and employees. Redecker believe that quality and sustainability always prove themselves and that this must, and eventually will, become more and more important in our throwaway society.