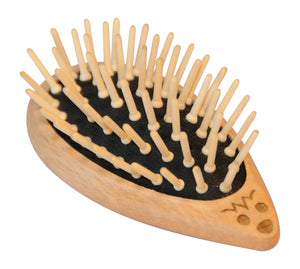 Wooden Hedgehog Hairbrush
Regular price £12.00 Sale
Super cute wooden hedgehog hairbrush made sustainably from waxed beechwood, with straight wooden pins. Size: approx. 9.8 cm

Ideal size to carry around in your bag or while travelling. You can even give yourself a head massage with the wooden pins which is gentle to your hair and scalp and relaxes the whole body – use in the evening before bedtime to leaves the daily stresses behind.

Made in Germany, this delightful wooden hedgehog hairbrush is really good quality, and made with the care and attention you'd expect from a family of traditional brush makers. All products made by Redecker are tried and tested by the family themselves. Redecker believe that quality and sustainability always prove themselves...and we quite agree.