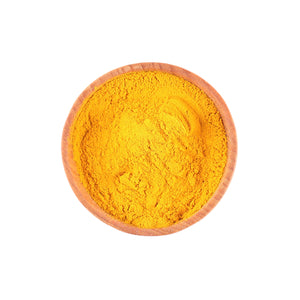 Turmeric, Organic

- Iron contributes to normal cognitive function, immune system function, reduction of tiredness, energy-yielding metabolism, formation of red blood cells, transportation of oxygen and cell division.

Organic turmeric is commonly used for conditions involving pain and inflammation such as osteoarthritis. It is also used for hay fever, depression, high cholesterol, heartburn, thinking and memory skills, inflammatory bowel disease, and stress.

Products are sent in paper bags. We recommend storing in airtight containers 
A note about allergens While we take all precautions, due to the open nature of our shop environment, we cannot guarantee against cross contamination of allergens. We handle eggs, milk, mustard, nuts, sesame, wheat, sesame and sulphur dioxide. If you are unsure about any of our products or processes, please get in touch.