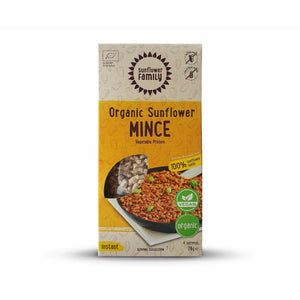 Organic Sunflower Seed Mince
Organic, natural and grown in Europe. High in protein and fibre with zero fat, sunflower mince has a meaty texture and is free-from soya and gluten, so it's a great way to add protein variety to both meat and plant-based diets. Delicious in bolognese, tacos, chilli, burgers and much more. Allow 15-19g per serving. 
And it's so simple to use; just make your base/sauce, add mince and an extra 1/2 cup of water, and cook for 5 minutes. Simple, tasty and nutritious. Children will be fooled!  Orders will sent in paper bags, please reuse and recycle.  
A note about allergens While we take all precautions, due to the open nature of our shop environment, we cannot guarantee against cross contamination of allergens. We handle eggs, milk, mustard, nuts, sesame, wheat, sesame and sulphur dioxide. If you are unsure about any of our products or processes, please get in touch.