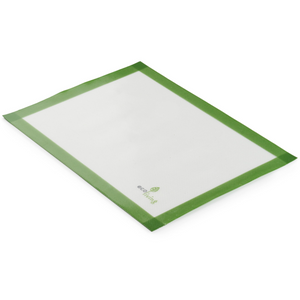 Reusable Baking Liner
Regular price £12.99 Sale
Back by popular demand! A reusable non-stick baking mat. This oven mat lines your baking sheets and trays to make them non-stick. Old trays will work like new... the ultimate solution for bringing new life back to old pans.
As the liners are non-stick, there's no need to add fatty oils – for a healthier way to bake. They're also very useful for freezing trays of soft fruits and pre-cooked pulses etc. It can even be used as an anti-slip work surface.

Size: 30cm x 40cm
Microwave safe
Oven safe up to 260 degrees
Dishwasher Safe
Certified food-safe
Made in Europe
Care instructions: Avoid harsh scrubbing or scraping. Do not cut or pierce the mat.

Oven safe up to 260ºC. Avoid contact with flames, heating elements and sharp objects. Some discolouration can occur but this won't impact the effectiveness of the baking mats in any way. If anything, it just adds a touch character...