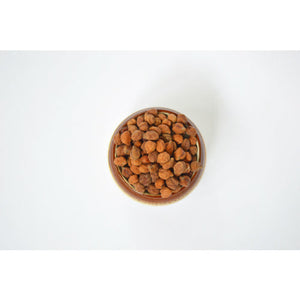 Red Fox Carlin Peas | UK Organic
A British alternative to chickpeas, these Red Fox Carlin Peas from Hodmedod's in Suffolk have a nutty flavour and a firm texture. They're great in soups, stews, curries and salad, pairing well with roast vegetables, and can also be used to make hummus. 
Red Foxes are a red-brown variety of Carlin Pea, combining the distinctive nutty flavour of Carlin Peas with a striking colour. Carlin Peas are traditionally eaten as Parched Peas in Lancashire, simply boiled up and eaten with vinegar and salt.
Hodmedod is a small independent business, founded in 2012 to source and supply beans and other products from British farms. They are committed to providing quality, sustainably produced food. Hodmedod's pulses and grains are British-grown – and always will be!

INSTRUCTIONS:
Soak overnight - or quick-soak by placing in boiling water, taking it off the heat and leaving for one hour.
After soaking, rinse and place in a pan with plenty of water, bring to the boil, cover and simmer for 40 to 45 minutes until tender.
Adding baking powder when soaking will result in softer cooked peas. Cooked peas can be used immediately or frozen.
NOTES:
Cooking times for dried pulses will be longer at higher altitudes and when cooking with hard water or older pulses.
Adding bicarbonate of soda during soaking and/or cooking will soften the pulses and reduce the cooking time.
Cooked pulses can be used immediately or frozen for later use.
FANCY SOME INSPIRATION?