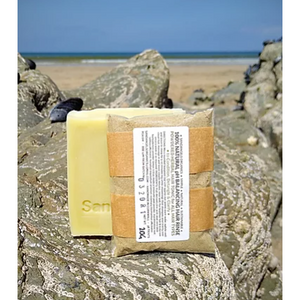 pH Balancing Clarifying Herbal Hair Rinse | Organic | Sand Angels
100% natural and organic pH Balancing & Conditioning Herbal Hair Rinse. Specially formulated to help clarify, detangle and condition hair while maintaining healthy hair and scalp. Particularly recommended for use with 100% natural shampoo bars as an alternative to the vinegar or lemon juice rinses normally recommended with solid shampoo.
The hair tonic comes in a paper bag and will need to be diluted/prepared in a suitable container by you before use. We recommend storing in an airtight container. HOW TO USE: Prepare just before use. Mix one teaspoon to one pint of warm water. Stir with a spoon to dissolve. Once shampoo has been applied and rinsed off, pour tonic over hair and gently massage. Rinse thoroughly. Use 1-2 times per week, depending on hair type.