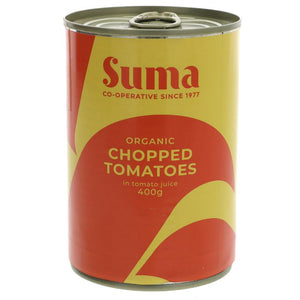 Organic Chopped Tomatoes
These organic chopped tomatoes from Suma are a delicious alternative to the lesser supermarket variety, perfect for so many recipes. Is a store cupboard really a store cupboard without a tin or two?
Ingredients: Tomatoes* (60%), tomato juice*, acidity regulator (citric acid). *from organic farming.
We source a lot of our food products from Suma. As one of the largest worker's co-operatives, they supply over 7,000 vegetarian, natural, and responsibly sourced products across the UK and beyond. The brands and products chosen by Suma align with our values; working together to improve the way things are done – and hoping that by collaboration we can see positive change. And our delivery driver is probably one of the nicest guys you'd ever meet.