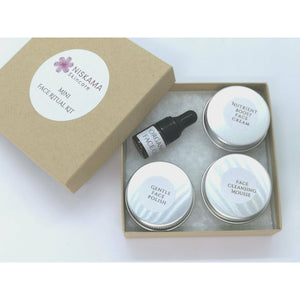 Niskama | Mini Face Ritual
Mini face ritual kit containing cleansing mousse, smoothing face polish, face oil and nutient boost face cream. Perfect as a gift or as a starter set before committing to the full size! 
Plastic free skincare, made in Cornwall.
Directions for use:

1. Wash your face and remove make up with the Face Cleansing Mousse. Rinse off with water.
2. Exfoliate using the Gentle Smoothing Face Polish on damp skin. Mix with more water to create an easily spreadable paste.
3. Follow at night with a few drops of the Organic Face Oil.
4. In the morning apply Nutrient Boost Face Cream for lasting hydration.