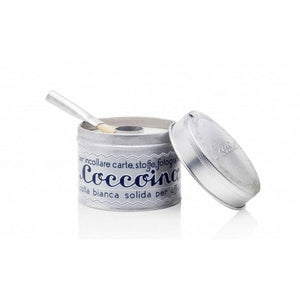 Coccoina Natural Glue
With its delightful scent of almond oil (it really does smell like marzipan) this non-toxic and plastic-free glue is a hit with children and stationery lovers all over the world. For use with paper, card, photos and labels. 125g.
Invented in Italy in 1927 by Aldo Balma – and the recipe remains unchanged today. Potato starch glue in the beautiful recyclable tin that is a mark of quality, style and tradition. Each aluminium pot includes a natural bristle brush. With the delicious smell of marzipan, and it's beautiful exterior, this is a far prettier way to craft.
The glue can dry out but if you heat it in a pan and add a drop of water or two you can bring it back to its original consistency and use again. 
Non-toxic 
BPA-free
Phthalate-free
PVC-free 
Lead-free
Solvent-free
Biodegradable
Natural
Ingredients: Potato flour in water (about 90%), non toxic and without solvents. Natural plant-based moistening agents, natural preservatives used in the food industry, almond fragrance.
Made in Italy by Coccoina.