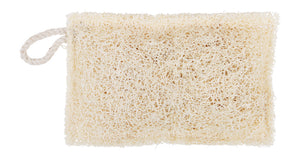 Loofah Dish Washing Sponge
Regular price £0.00 £4.50 Sale
Natural, sustainable loofah dish washing sponge is a wonderful plastic-free alternative to conventional dish washing cloths and sponges. Handy for washing the dishes and wiping surfaces. It also comes with a cotton strap for ease of drying.  Size: 11.5 x 7.5 cm.
Perfect for those trying to reduce the amount of plastic in their home or minimise the amount of microplastics going down their sinks and in to the ocean which is a huge issue with traditional 

Made in Germany, these loofah washing up sponges are really good quality and well made with the care and attention you'd expect from a family of traditional brush makers. All products made by Redecker are tried and tested by the family themselves. Redecker believe that quality and sustainability always prove themselves...and we quite agree.

Have you seen our washing up bars? Washing up liquid available on refill (in-store only).