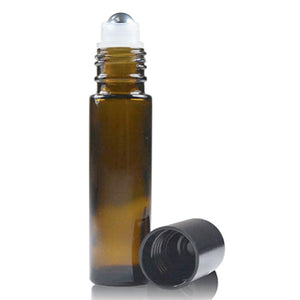 Glass Roller/Rollette | Amber | 10ml
10ml amber glass rollette with a metal ball, perfect for homemade lotions and potions. The bottle is made from true amber glass, rather than being sprayed like cheaper alternatives on the market.
Amber glass filters UV light, making this bottle great for housing light-sensitive products like essential oils. The metal ball has a plastic surround, which sits neatly in the bottleneck and helps create an airtight and leak-proof seal. But it can be refilled again and again – used and stored correctly, there's no reason why it wouldn't last years and many, many applications!
The rollerball applicator allows the product to be evenly and precisely applied, and the stainless steel ball won't corrode if used with aggressive blends. The coolness of the metal provides soothing relief, making it excellent for insect repellents and bite treatments, as well as eye gels and serums!