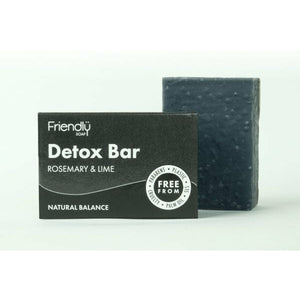 Friendly Soap | Detox Bar
Made using activated charcoal that absorbs toxins from your skin, leaving it cleaner and healthier. With lime essential oil for its antiseptic, antiviral and antioxidant qualities, and rosemary essential oil. A restorative soap that leaves you feeling renewed and ready for anything. Handmade with coconut oil, shea butter, olive oil, activated charcoal powder, and rosemary and lime essential oils. Free from palm oil, parabens, sulphates, triclosan and phthalates. 
Ingredients: Sodium olivate, Sodium cocoate, Aqua, Butyrospermum parkii butter, Rosmarinus officinalis (rosemary) essential oil contains limonene, Citrus aurantifolia (lime) essential oil contains citral, limonene, Charcoal powder.