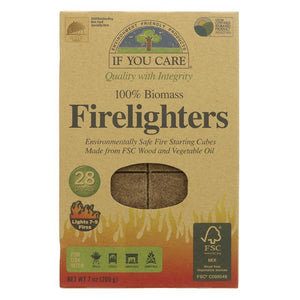 Natural Firelighters (pack of 28)
Environmentally-safe fire lighter cubes made from wood from FSC certified forests and non-GMO vegetable oil. The firelighters we're used to seeing on the market are toxic and incredibly smelly...they're just not nice to have around! These are still perfect for use with fireplaces, BBQ grills, wood burning stoves/ovens and campfires/outdoor fire pits – but made the natural way, in the Netherlands.
Extremely stable, have a long shelf life, do not lose firepower or dry out when left open
Not oily or greasy
Have no unpleasant smells
Non explosive and non toxic, and can be stored safely near or with food.
Harmless when in contact with plants, vegetation or aquatic organisms.
Pack of 28 firelighters.