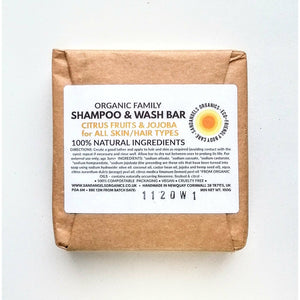 Family Shampoo & Wash Bar | Organic | Citrus & Jojoba | Sand Angels
Nourishing shampoo and wash bars, hand made in small batches right here in Newquay. These bars from Sand Angels are natural, organic and perfect for all the family. Suitable for normal to dry hair, they have been formulated so that there's not too much added conditioning that your hair will feel overwhelmed and oily – yet not too little that your skin will feel parched. Great for travelling, or just cutting down on bathroom clutter. For best results, use alongside the pH balancing Clarifying Conditioning Herbal Hair Rinse. 
Clary Sage and Hempseed for normal to dry hair
Citrus and Jojoba for normal to dry hair
Bergamot and Shea Butter for frizzy and curly hair
DIRECTIONS
SOAP Use with water to create a lather and apply as usual. SHAMPOO Use with water to create a lather in the hands and massage onto the scalp, or apply directly to wet hair in small gentle circular movements (longer movements for longer hair) to create lather as required. Rinse off thoroughly, being careful to avoid the eyes. For external use only.
Ingredients: Sodium Olivate, Sodium Cocoate, Sodium Castorate, Sodium Hempseedate, Sodium Jojobate (the preceding are oils that have been turned into soap using Sodium Hydroxide; these are: Olive Oil, Coconut Oil, Castor Bean Oil, Hemp Seed Oil and Jojoba Oil), Aqua, *Sweet Orange Essential Oil, *Lemon Essential Oil.       *Contains limonene and linalool
Allow the bar to thoroughly dry out between uses to prolong it's life - don't leave in the shower, it will dissolve! Age 3yrs+. 100g approx weight.