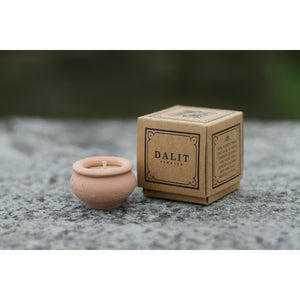 Dalit Mini Clay Candle
Beautiful little clay candles hand made by the Dalit community in Mumbai, a wonderful addition to any shelf (or stocking). The candles are ethically and sustainably made, providing vital funds for education and healthcare for the Dalits, a culture outcast from Indian society.
When Mumbai was largely swamp land, migrant potters began to arrive. The Dharavi slum is now home to around 300 families in what is thought to be the most densely populated place on earth. The Dalits, also known as 'Untouchables', face discrimination, intimidation and violence from higher social castes. The word "Dalit" literally translates to "oppressed" or "broken".
Dalit Goods raise awareness of the Dalits' plight and raise funds for the charity Life Association. After visiting Uttar Pradesh 20 years ago, it has been their mission to provide education and support in any way they can – from building schools to working with the local Dalit community to design and supply ethically sourced and environmentally sensitive products (and provide employment opportunities that are so desperately needed).
Individual Burn Time: 4 hours 
Candle Dimensions: L 4 cm X W 4 cm X H 3 cm