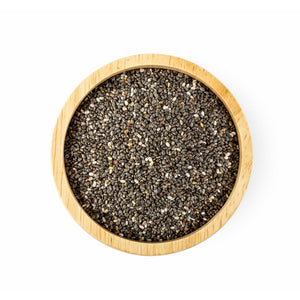 Chia Seeds | British & Organic
Grown in Essex, these chia seeds from Hodmedod's are the result of five years of crop trials and developments. Incredibly versatile and nutritiously rich, these seeds are delicious sprinkled on salads, added to smoothies, porridge or granola – and can also be used in baking (they make a great vegan egg replacement too). 
COOKING INSTRUCTIONS
As an egg substitute
- Soak 1 tablespoon of seeds in 3 tablespoons of warm water for 30 minutes to replace one egg in vegan baking.
In baking
- Add whole or ground chia seeds to bread mixes at up to 5%
- Add whole chia seeds to other baking mixes at up to 10%
Other uses
- Add whole chia seeds to breakfast cereal at up to 10%
- Add whole chia seeds to fruit, nut, and seed mixes at up to 10%
- Add whole, mashed or ground chia seeds to fruit juices or smoothies at up to 15g/day