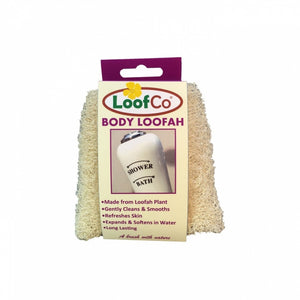 Natural Body Loofah
A natural, plastic free, body loofah. Skilfully hand-made from a natural loofah plant. A 100% biodegradable alternative to plastic exfoliator pads which we now know cause microplastics to shed and infiltrate our bodies, organs and deepest oceans.
The loofah fits neatly into the hand and when immersed in water swells up to become a soft, spongy and flexible pad. The Body Loofah will last for months with normal use and when worn out can be composted. Each pad has a convenient cotton hanging loop. 
How to use: Rinse thoroughly before first use. In shower or bath use on damp skin with soap or gel in a gentle circular motion to clean, freshen, exfoliate and invigorate skin. To keep loofah fresh between uses, rinse and squeeze out excess water and hang to dry from the cotton string loop. Occasionally wash in the washing machine or by hand if desired.