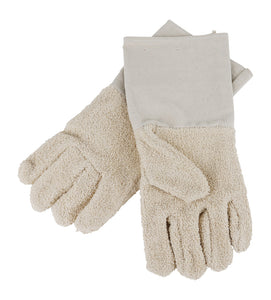 Baking / Oven Gloves
Regular price £0.00 £16.00 Sale
Baking/oven gloves for protecting our precious hands and arms when baking, frying or cooking. These baking gloves are made of a cotton/terry loop fabric and have canvas cuffs. Luxurious some may say! Made in Germany by Redecker, they offer a superior quality and particularly good protection against the elements (of your oven) than other alternatives that are on the market.

Oven gloves are 35cm and washable at 40°C.

Made in Germany, these baking gloves are really good quality, and made with the care and attention you'd expect from a family of traditional brush makers. All products made by Redecker are tried and tested by the family themselves. Redecker believe that quality and sustainability always prove themselves...and we quite agree.