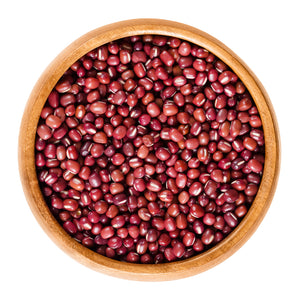 Aduki Beans
Aduki beans available in 100g, 250g, 500g and 1kg and sent plastic free. We recommend storing beans in an airtight container. Plastic free shopping for the conscious consumer. Orders will sent in paper bags, please reuse and recycle. 
TO USE Soak beans overnight in water. Drain and simmer in water for an hour. Alternatively, pressure cook the soaked beans in 2 cups of water for 5-9 minutes at high pressure. If you don't have time to soak the beans, pressure cook for 15-20 minutes.
A note about allergens While we take all precautions, due to the open nature of our shop environment, we cannot guarantee against cross contamination of allergens. We handle eggs, milk, mustard, nuts, sesame, wheat, sesame and sulphur dioxide. If you are unsure about any of our products or processes, please get in touch.