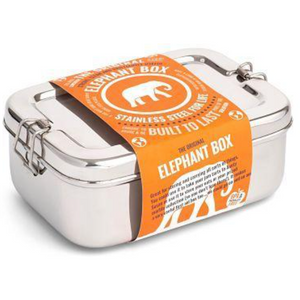 Lunchbox | Stainless Steel
Regular price £31.00 Sale
A plastic-free 2-litre lunch box that is easy to clean and keep free from odour and stains. Elephant Box lunchboxes are made from high quality stainless steel and is tough, strong, sturdy and long lasting. They're even dishwasher safe, oven safe and freezer safe. Responsibly made in India in a small family run factory.
Reusable
Zero-waste
Plastic-free
204cu grade stainless steel
Free from odour and stains
Dishwasher and oven safe up to 240 degrees
The Elephant Box is a stainless steel multipurpose lunch box made to be free from plastic and even silicone. Since it has no silicone seal it isn't leakproof and instead locks with metal latches. They're designed to be stored in a fridge or freezer as well as being oven safe up to 240 degrees which gives it it's multipurpose ability, it can be used for everything from cooking to preparation. With the large size, it can fit a huge amount of food with ease so is great for both food storage as well as for lunch. Along with the sleek design, the metal allows it to be easily cleaned in the dishwasher to free it from odour and stain.
Dimensions:
Width 15 cm
Length 21cm
Depth 7.5cm
Capacity 2 litre
Weight 450g